Galloway Forest Park anti-social behaviour crackdown starts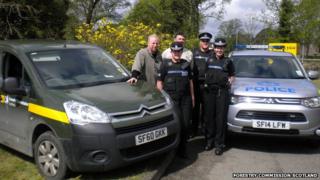 A zero tolerance approach has been pledged in a crackdown on anti-social behaviour in the Galloway Forest Park ahead of its summer season.
Police and Forestry Commission Scotland have teamed up for the initiative.
They said that they would be targeting excessive consumption of alcohol, litter problems and "rowdy behaviour".
They added that they were determined that a "small minority" would not spoil the experience of the popular park for other visitors.
Archie McNeillie, FCS recreation forester, said: "Galloway Forest Park is a major draw to visitors over the summer period and the vast majority are very responsible.
"Unfortunately, with an increase in numbers we also get a few more reports of anti-social behaviour.
"We don't want the small minority ruining a day out for others so we are joining with the police to tackle it head on."
'Deal robustly'
He urged the public to report any incidents of anti-social behaviour to the police or the FCS.
Sgt Alan McDowall said there would be a noticeable police presence in the weeks ahead.
"Keeping people safe is our key priority, therefore throughout the summer month's officers from Police Scotland will routinely patrol the key areas of the Galloway Forest Park in order to robustly deal with instances of disorder and criminality," he said.
"This joint approach will provide reassurance to members of the public that this is a safe and secure place to visit whilst acting as a deterrent to those intent on being involved in anti-social behaviour."