Jedburgh and Selkirk court site retention recommended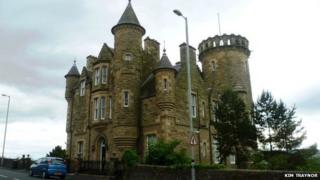 A feasibility study into the future of justice services in the Borders has concluded courts in Jedburgh and Selkirk should be retained.
A working group was looking at three possible options for the region.
It could have seen one large central "justice centre" created, a number of smaller centres or the retention of two existing sheriff courts.
The study decided the best approach was to keep the two courts but improve the use of technology between them.
Sheriff courts in Duns and Peebles are due to shut in 2015.
However, the long-term future of Selkirk and Jedburgh also appeared uncertain with the creation of one large "justice centre" - possibly near Galashiels - being considered.
A feasibility study which advised the retention of the two sites has now been approved by the Scottish Court Service (SCS) board.
SCS chief executive Eric McQueen said: "I welcome the feasibility study conclusions, reached after extensive dialogue with a wide range of justice organisations on future justice services in the Scottish Borders.
"I am confident this gives us a solid platform to deliver the best services for the people of the Scottish Borders.
"The feasibility study shows that while it is right we test the concept of justice centres it is equally important that we tailor approaches that are right for local communities, and we will continue with this approach as we consider justice centres in other locations."
The study will be considered by Scottish Borders Council at a meeting on Thursday.
South of Scotland Lib Dem MSP Jim Hume described the decision as a "victory for local campaigning against further court closures".
"The option to close Jedburgh and Selkirk sheriff courts was hugely unpopular and indeed I've received hundreds of letters and phone calls from people across the Borders worried about losing key services from their communities," he said.
"Today's verdict is a win for local justice in the Borders."
Borders Tory MSP John Lamont said he hoped the feasibility study secured the long-term future of Selkirk and Jedburgh - and that a central justice centre would have left many with long journeys.
He criticised SNP MSP Christine Grahame, who still backs a Galashiels justice centre.
Ms Grahame insisted the issue was not about party politics.
She said that accessible justice would be best served by a centre in Galashiels - because of the town's good transport links - with perhaps satellite facilities elsewhere.