Borders to Edinburgh railway: Launch party appeal issued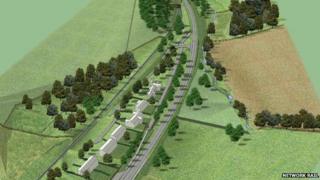 Communities along the route of the Borders to Edinburgh railway line are being urged to contribute ideas of how to mark its reopening next year.
Training engines are expected to start running in June 2015 with passengers services 12 weeks later.
First Minister Alex Salmond has called upon people to submit their plans for how to mark the project's completion.
Every idea submitted will be entered into a draw for a "golden ticket" for the inaugural journey on the route.
Mr Salmond was speaking ahead of a cabinet meeting in Selkirk this week.
'Social opportunities'
"This time next year we'll be seeing trains running on this line for the first time in almost half a century," he said.
"The Borders Railway will be much more than a simple transport link - it will be a direct line to jobs, investment, social opportunities and tourism.
"It is a project which will rejuvenate Midlothian and the Borders and will see both areas compete with their neighbour in Edinburgh, bolstering Scotland's economy as a whole."
He said the railway could "compete with some of the finest tourist rail journeys in the world" and had "already attracted huge interest".
Transport Scotland and its partners have formed a Borders Railway Opening Celebrations Committee to look after the administration of the launch event.