Safety stepped up after Jim Clark Rally crash deaths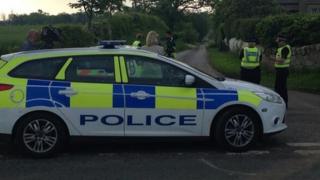 Organisers of the Scottish Rally in Dumfries have stepped up safety measures after three spectators were killed at an event in the Borders.
Iain Provan, 64, Elizabeth Allan, 63, and Len Stern, 71, died at the Jim Clark Rally last month.
Racing returns to southern Scotland on 27 and 28 June with the RSAC Scottish Rally in and around Dumfries.
Organisers said that following "recent events" spectator safety would be a "prime concern" over the weekend.
A dedicated spectator safety number is being introduced which will link directly to staff at rally headquarters.
Anyone with a concern about their safety - or that of other spectators or competitors - can call to raise the issue which will be "followed up and investigated".
The safety line number will be advertised in the spectator programme and throughout the stages.
After the fatal accident near Coldstream, Scottish Justice Secretary Kenny MacAskill announced that police would carry out a review of safety at public events in Scotland in the wake of the deaths.
The Scottish government is also to commission a review of motorsport event safety in light of the accident.