No procedure in place to avoid Moffat farmer's death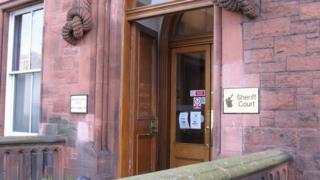 A sheriff has recorded a formal verdict following a fatal accident inquiry into the death of a well-known farmer.
William Davidson, 62, died from head injuries after falling 16ft (4.8m) from the top of a silage pile at his farm near Moffat in January 2013.
He was pulling back plastic sheeting when he fell, apparently after his feet became entangled.
In his determination, Sheriff Daniel Kelly said there was no procedure in place to avoid the accident.
Mr Davidson was well respected in the farming community.
He was a past director of the Royal Highland Show and past chairman of Dumfries and Lockerbie Agricultural Show.
The farmer had rebuilt his cattle and sheep stock after it was wiped out by foot-and-mouth disease in 2001.
He was then part of a steering group helping other farmers affected by the crisis.
'Simplest precaution'
In his determination following the FAI, Sheriff Kelly said the cause of Mr Davidson's death was a severe head injury sustained in the fall.
The sheriff said leaving some of the silage uncovered may have broken the farmer's fall.
He said: "The simplest precaution would be a practice whereby the sheets were pulled back while there remained at least 6ft of silage uncovered.
"If that were implemented, even if a person were to fall over, there would be 6ft of silage left to fall upon, much reducing and hopefully eliminating the risk of falling over the edge."
The farmer's son Alistair, a partner in the family agricultural firm, had described to the inquiry in Dumfries how they had both been working at the top of the pile when his father's feet became entangled and he went over the edge falling onto the ground.
Health and Safety Executive inspector Lesley Hammond, in evidence, agreed that the method adopted in pulling back the sheets was common practice in the industry and provided a number of suggestions as to how the sheets could be removed from the top of the silage in a safer manner.
But Sheriff Kelly pointed out that one suggestion involving ropes was untested and could present a tripping hazard and another involving the use of a hook or crooks might result in ripping the sheets and also pose a tripping hazard.
He said: "Neither could therefore be advanced as reasonable precautions whereby the death might have been avoided without further testing as to their efficacy."
He did add that a reasonable precaution whereby the death might have been avoided would have been that of keeping a safe distance from the edge of the silage pile.