Selkirk Common Riding has first female standard bearer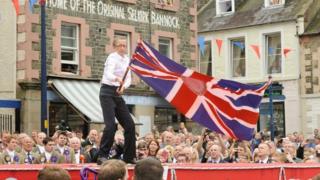 History has been made at Selkirk Common Riding with its first female standard bearer.
Fiona Deacon was one of seven people selected to take part in the traditional casting of the colours ceremony in the town centre.
She was representing the Ex-Soldiers' Association at the event.
Selkirk is one of a number of Scottish Borders towns to stage a common riding to recreate the tradition of riding a town's boundaries on horseback.
As part of the celebrations, six flags are carried along with the Royal Burgh flag, which was this year taken by standard bearer Greg MacDougall.
Loss of life
The roles have historically always been taken by men, but Ms Deacon was chosen to take one of the posts earlier this year.
The ceremony itself commemorates the loss of life at the Battle of Flodden.
It remembers the day in 1513 when 80 men left to fight for King James IV and only one returned.
The Royal Burgh Standard Bearer represents Fletcher - the only Selkirk man, or 'Souter', to return alive from Flodden.
The climax of Selkirk Common Riding every year is the casting of the colours, taking place immediately after the riding of the marches in the town's Market Place.
The Royal Burgh Standard Bearer and standard bearers from Selkirk's six guilds "cast" their flags to the tune "Up Wi' The Souters O' Selkirk".