World Cup 2014: Watching the World Cup Italian style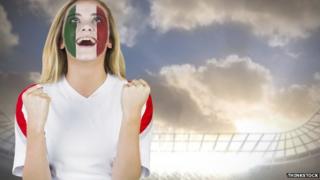 I have seen furniture broken, spectacles smashed and grown men cry.
There have been roars of delight, curses in anger and joyful embraces.
And, through it all, there has usually been the consolation of a good coffee, a decent meal and a glass or two of Chianti.
For I, like millions of other Italiani all'estero (Italians abroad) will be rooting for the Azzurri as they kick off their World Cup against England on Saturday night. I have done so ever since I can remember.
A lot people tell me, with some justification, that I've taken the easy option - the glory hunter's role.
"What ever made you pick the four-times world champions over the chronically heroic failures of Scotland?" they ask.
It is a question delivered with a splash of sarcasm dripping from it like raspberry sauce down your ice cream cone.
But, it was never - for me anyway - the conscious choice which the inquiry implies.
My grandfather and father worked a kind of indoctrination programme which meant I could only truly cheer for the land of my ancestors rather than that of my birth.
It doesn't mean I don't want Scotland to do well, just that it doesn't stir my soul like watching the Italians.
But what, exactly, are the key elements of supporting La Nazionale?
Passion and preparation
One of my first childhood memories was of my grandfather - Nonno to me - running round the garden waving his green, white and red flag for an Italy goal.
I also watched my father and uncles rolling around the floor to celebrate a victory over England.
Even as a young boy, I loved this passion and knew, like freshly-baked pizza, that I wanted a slice.
It is a pastime which has consumed my life ever since.
The ritual usually begins with a first simple question: "Ma dove guardi la partita?" (Where are you watching the game?).
It needs to be a place with a big television, room to pace the floor or celebrate and, ideally, nobody supporting the opposition.
I have seen living rooms set out like a football stadium with seats arranged in ascending order of height in order to allow for the maximum number of viewers.
Food
Winning the right to "host" the World Cup at your house comes at a cost.
The culinary pre-match build-up to an Italy game is not a cheap.
The very least we expect is a bit of antipasto, a decent espresso and a steady supply of red wine.
Some of the more outlandish spreads have made the match itself actually seem like a bit of a side order.
Superstition
If a venue proves to be successful, superstition means we never move from that location for future matches.
A lot of long-suffering families have learned this to their cost.
Seating arrangements will be maintained throughout the tournament if they provide a win, a "lucky strip" might have to be worn to every game and all sorts of other traditions develop as the competition progresses.
I used to have a T-Shirt I wore when Italy won the World Cup in 1982 - when I was aged 12 - which I continued to wear for the next four or five tournaments.
It was only when my wife-to-be told me I smelt like out-of-date gorgonzola that I finally ditched it.
Gesticulation
Every Italian fan needs plenty of room around them, for their arms are likely to be flying about from the first whistle to the last.
There is a gesture for every occasion.
"Are you joking?", "Come on!" and, to put it most politely, "Get lost!", all have their own accompanying action.
I thought these had to be taught but I've found my son has picked most of them up without any instruction.
There are, however, guides available online for those who need them.
Celebration
In defeat, we slouch away to our respective homes to lick our wounds and hope for improvement.
But a victory brings flags out the window, scarves waving and horns honked on the way home.
I used to think I was the only person who felt this way but social media has shown me there are millions like me around the world.
We are the Italian diaspora who find a vital link back to our family's homeland through the medium of football.
On Saturday night we will gather in homes, bars and restaurants around the world to support Cesare Prandelli and his players.
And, if you listen closely, you just might hear our shouts of joy or anguish somewhere near you.