Safety warning after Borders biker crashes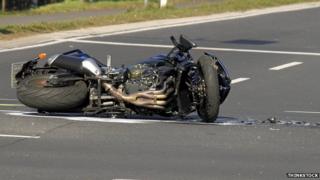 Police have issued a safety warning after two motorcyclists were seriously hurt in the Borders over the weekend.
In the first incident a 53-year-old man was injured when his bike and a Jaguar car collided on the A68 at Soutra Hill on Friday.
The second crash saw a 42-year-old man hurt in an accident involving a motorbike and a Ford Fiesta.
Insp Richard Latto said both men had been lucky not to suffer life-threatening injuries.
"The recent warm weather has resulted in a noticeable increase in the number of motorbikes using local routes across the both the Scottish Borders and East Lothian," he said.
"In an effort to continue to reduce the number of casualties in this vulnerable road user group, local road policing officers would prioritise their time targeting identified motorcycle routes."
He said "education and engagement" continued to be an important part in the "quest to reduce casualty numbers".
However, he said that "proactive enforcement and the deployment of unmarked police vehicles" would continue to be used as a "key tactic" to ensure road safety.