Tweed Valley osprey chicks 'succumb to cold'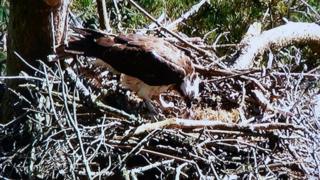 A Borders osprey project has suffered a setback after all three chicks in a nest it was monitoring died.
It is thought they succumbed to the cold after the female bird disappeared for three days.
Volunteers reported that the male "did his best" to keep the chicks alive but they were dead in the nest on Friday afternoon.
Everyone at the Tweed Valley project, which monitors the site by CCTV, was said to be "devastated".
The two ospreys have returned to the same nest in the Borders for the past decade.
This year they came back again and produced three eggs - the final one of which hatched last week.
However, the female disappeared and, although she has now returned, all the chicks have died.
Diane Bennett, osprey information officer for the project, said: "The death of the chicks has been a real shock to all those who have been following this osprey family for the last ten years.
"Everyone was thrilled to be watching what we thought was the 11th successful year of breeding.
"Nature can be very cruel at times but you have to let it take its course."
She said that there was a small "glimmer of hope".
"Although we can't confirm whether it is the same female, one has turned up and the male is very keen and has already been mating with her," she said.
"It is unlikely, but there could be a very slim chance of eggs being produced again.
"This would raise everyone's spirits but we have to be realistic that it is probably just too late now - we'll keep hoping though."
Meanwhile, another Scottish site is also going to yield no chicks this year.
Too much time is said to have passed at the Loch of Lowes nest in Perthshire.