Earlston-based BSW Timber to buy Southampton's RF Giddings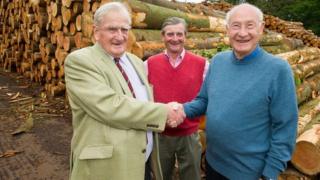 A Borders-based timber firm has announced that it is to continue its expansion with the purchase of a Southampton company.
BSW Timber, which has its headquarters in Earlston, will formally take over RF Giddings on 1 August.
It said it planned to double capacity at the mill and create 10 new jobs at its New Forest site.
BSW chief executive Tony Hackney said the two firms had already been "working closely" for some time.
RF Giddings currently employs 30 people and specialises in the production of materials for the fencing, pallet and construction markets.
The company has been based at its current site since 1942.
Mr Hackney said the purchase would provide the BSW Group with "significant reach" across the whole of the UK.
'Committed investment'
Lynda Glover, managing director at RF Giddings, said the business had enjoyed "huge success" since it was established in the 1890s.
"This is the right time to hand over the reins to BSW Timber," she added.
"The company is one of the most successful and respected businesses in the UK, and has a strong track record of committed investment across all its UK sites, continually improving the quality of both its service and products.
"We are looking forward to seeing the sawmill thrive under this new leadership."
BSW already has six sawmills in the UK and one in Latvia.
The UK sites are at Dalbeattie in Dumfries and Galloway, Boat of Garten and Fort William in Inverness-shire, Petersmuir in East Lothian, Carlisle in Cumbria and Newbridge-on-Wye in Powys.