Borders to Edinburgh railway role offered to fashion students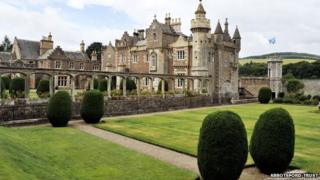 Fashion students are being offered the chance to create a public artwork to be displayed on the Borders to Edinburgh railway, due to open next year.
The piece will also commemorate the 200th anniversary of the publication of Sir Walter Scott's Waverley novels.
The competition is open to students at the Heriot-Watt School of Textiles and Design in Galashiels.
Transport Minister Keith Brown said it was important to celebrate the "rich and vibrant history" along the route.
"We are now well on the way to opening the Borders Railway and I know that anticipation is really building for the new opportunities this will open up for the communities it will serve," he said.
The artwork will be unveiled at Abbotsford, the home of Sir Walter Scott, at the 200th anniversary of the writer's Waverley novels in October and will be stored there until going on display at a station or a number of stations on the new railway.
'Prestigious brief'
Transport Scotland rail director Aidan Grisewood will lead the judging panel, joined by Abbotsford director Beverley Rutherford and Mark Parker, director of studies at the School of Textiles.
Ms Rutherford said: "Abbotsford is steeped in history and we recognise the significance of keeping historic connections alive in a modern world."
Mr Parker said his students would "relish the challenge" of working on such a "prestigious brief for the Borders Railway".
"The chance to have your design ideas permanently displayed in public is one that any student would be immensely proud of," he said.
"As one of the world's leading textile institutions, we set very high standards and I'm looking forward to seeing the ideas that our students put forward."