St Abbs underwater tribute to lost HMS Pathfinder crewmen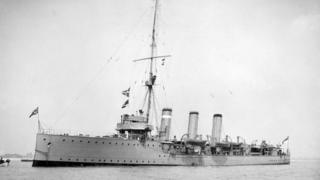 Scuba divers are to lay a wreath on the wreck of a ship sunk by a torpedo 100 years ago with the loss of 250 lives.
HMS Pathfinder went down off St Abbs Head in the Scottish Borders on 5 September 1914.
A team of divers from the British Sub-Aqua Club (BSAC) plan to mark the 100th anniversary later this year.
Group leader Dave Lock, of Felixstowe, said it would be a "poignant and sombre occasion" about "showing respect to the wreck and to the lives that were lost".
HMS Pathfinder was patrolling waters off southern Scotland when it was hit by a torpedo from a German U-boat.
The majority of crew below decks had neither the time nor opportunity to escape and went down with the ship.
Now, on 5 September this year, a team of divers hopes to lay a wreath at the wreck which lies 68m (220ft) below the water surface.
Mr Lock, a BSAC national diving committee member and group leader for diving and coaching, will lead a team from around the country.
"Hopefully, we will manage to dive on the wreck of HMS Pathfinder exactly 100 years to the day of her sinking," he said.
"However, she lies, upright, in quite deep water.
"Her stern is at 68 metres while her decks are at 58 to 60 metres.
"This is a dive for experienced sports divers with a technical diving qualification."
Also taking part will be divers from Eyemouth-based charter company Marine Quest.
"This dive mission is all about showing respect to the wreck and to the lives that were lost," said Mr Lock.
"Accurate figures for the actual people on board are difficult, which is not unusual for ships at that time.
"However, best estimates put the crew at 268 and there were just 18 survivors including the captain despite the fact he remained with the ship until the very last moment.
"And this was the first ship to be sunk due to a locomotive torpedo which makes it all the more interesting."
He said the divers would "respect the remains", which constitute a designated protected wreck under the Protection of Military Remains Act 1986, and ensure nothing was touched or disturbed.
"We intend to lay a wreath and leave the wreck exactly as we found it," he said.
He also hopes the dive will encourage more people to take up the sport of diving.