BT signs £300m Fallago Rig wind farm energy deal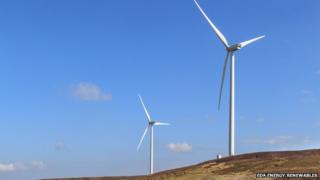 BT has agreed a £300m deal to buy enough energy to meet the needs of all its Scottish operations for the next 20 years from a wind farm in the Borders.
The company will buy 50% of the electricity generated by the 48-turbine Fallago Rig scheme north of Lauder.
BT Scotland director Brendan Dick said the deal gave the company "long-term" price certainty.
He said the firm was keen to meet its energy needs in an "environmentally responsible way".
BT is a major consumer of electricity, using around 170 Gigawatt hours (GWh) per annum in Scotland.
Mr Dick said: "At BT we use the power of communications to make a better world.
"We're as committed to reducing our own carbon emissions as we are to providing products and services that help everyone live within the planet's resources."
He said the company had reduced carbon emissions from its own operations by 25.5% globally during 2013/14.
"Our deal with Fallago Rig reinforces our commitment to make a positive contribution to society and the environment," he added.
"It's also a huge vote of confidence in Scottish renewable energy."
The deal was welcomed by Energy Minister Fergus Ewing.
He said: "It is great news for Scotland and the environment that a company the size of BT is taking a local and sustainable approach to sourcing its electricity in Scotland from renewable and low carbon sources.
"With EDF Energy and BT now sharing 100% of the energy produced by Fallago Rig, it also secures generation at the site for the long-term future and shows the importance of Scottish renewable energy to Scottish-based businesses and their customers."
WWF Scotland director Lang Banks also welcomed the move as "good news".
"If Scotland is to meet its climate change targets and decarbonise its power sector then we need to see more big companies follow BT's example and opt for 100% renewable electricity," he said.
"Better still, we'd like to see companies build and own their own wind turbines or solar farms.
"Doing so would create thousands of jobs and more quickly enable Scotland to reduce its reliance on polluting fossil fuels."
Fallago Rig is one of the largest onshore wind farms in the UK, and is majority owned by funds managed by Hermes GPE Infrastructure.
EDF Energy Renewables continues to own a minority stake in the wind farm and will continue to manage the site by providing operations, maintenance services and asset management.
The development was one of the most controversial ever taken forward in the Scottish Borders and was the subject of a six-year opposition campaign.
Opponents eventually admitted defeat after a Court of Session ruling which rejected their bid to force a judicial review of approval for the project.