'Stolen' Castledykes Park mural was being repaired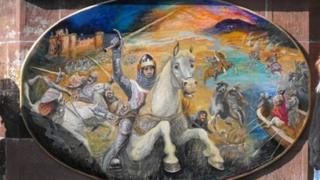 A mural which police had reported as being stolen from a Dumfries park had actually been removed for repair.
It was thought the artwork had been taken some time over the past two weeks from the town's Castledykes Park.
The mural is about 8ft (2.4m) wide and 4ft (1.2m) high and depicts a knight on a white horse in battle at Caerlaverock Castle.
Initial reports suggested it had been stolen but police later confirmed that had been a "false alarm".