Bernat Klein: Heriot-Watt students stage fashion tribute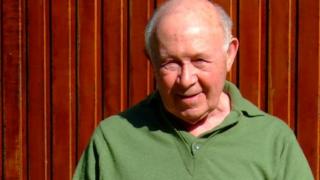 Heriot-Watt University students are staging their annual fashion show in tribute to designer Bernat Klein who died earlier this year.
The event has been moved from Edinburgh to Abbotsford House in the Borders on Saturday afternoon.
It has been dedicated to Mr Klein who has been credited with a key role in saving the region's weaving industry.
Garments being shown at the fashion show are said to have been inspired by his collections and art work.
Mr Klein died in April this year at the age of 91.
Prof Alison Harley, of Heriot-Watt University's School of Textiles and Design, said at the time that he had "designed and produced some of the most beautiful textiles of the 20th century".
Now a group of students is paying tribute to his legacy with creations of their own.
They include evening gowns made from Harris Tweed - and knitted sportswear fabric to keep athletes cool.