Dumfries fine defaulter arrested at Manchester Airport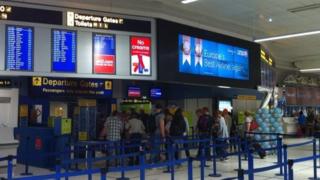 A Dumfries man who had failed to pay a court fine was arrested at Manchester Airport, the Scottish Court Service (SCS) has revealed.
The man, who cannot be identified for data protection reasons, had ignored warnings to pay the fine for failing to have proper car insurance.
He was stopped while attempting to board a flight and only allowed to travel after he had paid in full.
It is one of a range of actions which can be taken against fine defaulters.
The case was revealed as the SCS confirmed the amount of fines being paid via its online service rose by more than 30% in the past year.
A total of £4.5m was collected using the system in the last financial year - a rise of more than £1m on 2012/13.
The SCS said it had helped to ensure that overall collection rates could "remain strong".
It also warned that defaulters could face a range of enforcement measures - including car clamping or arrest at air and ferry ports.
Another case it highlighted was that of a woman from Galashiels who had her vehicle clamped twice after failing to pay road traffic fines.
On both occasions she ended up paying the original fines in addition to clamping costs.
All defaulters are issued warnings and "given the chance to engage with enforcement officers" before action is taken.
Chief Operations Officer Cliff Binning said: "If you have an outstanding fine, we urge you to catch up with your payments now.
"If you don't, you could be the next person to see your car clamped or money deducted directly from your benefits, wages or savings.
"If you are in genuine financial difficulty you can contact a member of the fines enforcement team to discuss your payment terms."