The chough: RSPB survey into one of Scotland's rarest birds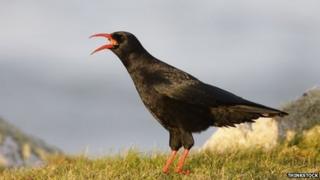 One of Scotland's rarest birds, the chough, is to be the subject of a national survey to see how its population is faring.
The study aims to assess current numbers of the red-billed birds - believed to be around 60 pairs - after years of decline.
In Scotland, choughs are only found in a small area of the south-west, with 90 per cent concentrated on Islay.
Naturalists believe 14 pairs were lost between 2002 and 2012.
A team of surveyors has now begun work to chart the fortunes of the "acrobatic" birds, known for their flamboyant flying style.
Researchers are particularly concerned about the survival rates of young birds in their first year.
It is thought variations in weather and food supply could be having an impact on the survival of the young choughs.
RSPB research assistant Michal Sur walks up to 20km a day searching Islay's most remote areas for the birds.
Dune systems
He said: "The core of the population breeds in old buildings or farm sheds inland, but choughs have also traditionally nested in caves along the coast.
"We have information on historical nest sites from previous surveys and are searching remote coastal areas in the north and east of Islay to try to find out whether any chough are using these inaccessible sites.
"Choughs are quite easily spotted because of their distinctive flying style but unfortunately they are becoming a far less common sight, even on the stronghold of Islay."
The work on Islay is part of a UK study by the the RSPSB, Scottish Natural Heritage and the Scottish Chough Study Group.
Davy McCracken, professor of agricultural ecology at Scotland's Rural College, said: "Chough are charismatic birds that are fantastic to see out on the cliffs of Islay or feeding on the dune systems.
"They are extremely acrobatic and lovely to watch. It would be very sad if they were to cease to be on Islay and Scotland were to lose this protected species."
Scottish fieldwork will run until mid-June and cover Islay, Colonsay, Jura and parts of Dumfries and Galloway.
In the rest of the UK , the survey will include chough populations in Wales, the Isle of Man, Northern Ireland and south-west England.