Police control closures begin in Dumfries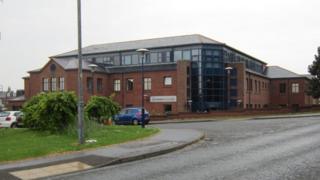 A string of police control room closures across Scotland has got under way in Dumfries.
The move affects more than 30 staff at the south of Scotland facility.
It will be followed by control centres in Stirling, Glenrothes, Pitt Street in Glasgow and Aberdeen.
Police Scotland said it was part of plans to "modernise contact, command and control arrangements". The union Unison has described it as a "sad day" for the town and staff involved.
The closures were approved by the Scottish Police Authority earlier this year.
Dumfries is the first to be shut with the others to follow between now and December 2015.
Ch Supt Val Thomson said the closure of the south of Scotland control room met Police Scotland's no compulsory redundancy policy.
"More than half of the staff affected by this change have already applied for voluntary early retirement or voluntary redundancy or have found redeployment within Police Scotland," she said.
"The rest of affected staff will move to work on important projects to support the major events while Police Scotland works with each person to work out individual redeployment opportunities."
She said local knowledge could be maintained "through the retention of highly experienced staff, maintaining local public assistance desks operated by local officers and the effective use of new technologies and ongoing staff training".
"Once complete, we will be able to provide an improved use of our officers by being able to integrate wider areas of control," she said.
"Improvements in technologies will allow our staff to identify the location of an incident, and the nearest police resource, whether that is a local beat officer, a firearms officer or a specialist detective, using GPS technology.
"The improvements will assure that the nearest and most suitable resources respond to incidents and will increase Police Scotland's capability to meet the demands of responding to critical and major incidents, irrespective of their location."
She said the changes aimed to ensure people in Scotland received an "equal, effective and efficient service" from the police.
Unison regional organiser Gerry Crawley said it was a "sad day all round", especially for the staff concerned.
"Obviously a number of them are very upset because it is the end of their time working in the control room in Dumfries," he said.
"We don't like to see jobs going from local areas and it is a blow for the Dumfries community that their control centre is getting transferred to Glasgow and Motherwell."
He said 20 staff had either taken voluntary redundancy or found jobs elsewhere but work was ongoing to find posts for 14 others.
"There has been a commitment given by the chief constable and the Scottish Police Authority that they will look at jobs to come down to Dumfries and Galloway," he said.
Mr Crawley stressed they were "not resigned" to sites in Glenrothes, Stirling and Aberdeen having to close and would put forward counter-proposals.
However, he said that after a "shambolic" start to the process in Dumfries he hoped things could improve for other locations.
"The lessons in Dumfries will clearly benefit the people in Stirling, Glenrothes and Aberdeen," he said.
"In future they will look at how jobs can be put about the country and not just go in with a sort of sledgehammer approach of wanting to close that area down and not looking at jobs for the local area."