Scottish Borders bids to become Great Tapestry's home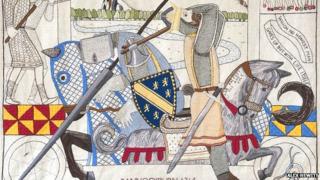 A plan has been unveiled to site the Great Tapestry of Scotland permanently at Tweedbank in the Borders.
The world's longest embroidered tapestry tells the "story of Scotland" across 160 panels.
It was the brainchild of Scots author Alexander McCall Smith and Borders historian Alistair Moffat.
Scottish Borders Council is to discuss the case for a business plan to house the tapestry in the region at a meeting later this week.
It took 1,000 volunteers more than 50,000 hours to complete the work, which is 70m longer than the Bayeux Tapestry.
It has been on tour around Scotland and further afield but is scheduled to return to the Scottish Parliament for display this summer.
Now SBC hopes to find a permanent home for the tapestry in the area.
A report to councillors states: "This is a unique opportunity for the Borders to obtain an exhibition of national significance with strong ties to the textile heritage and wider history of the region."