Equine artwork helps launch Spring Fling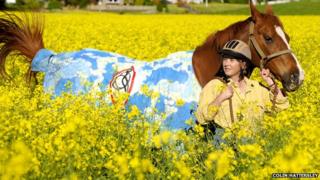 A horse has become a "living artwork" to help launch the annual Spring Fling festival in Dumfries and Galloway.
Scotland's "premier open studios visual art and craft event" takes place from Saturday until Monday.
A total of 95 studios throughout the region are taking part in the biggest-ever edition.
Fred the horse will be sporting a jacket featuring a design by local artist Hope London at Middleshaw near Dalton throughout the weekend.
Leah Black, Spring Fling director, said: "Fred and the rest of the Rural Murals are among the big attractions at this year's Spring Fling - people can drive round the region and see colourful artworks in unexpected places.
"They can even watch as a tractor is turned into a mural.
"This year's Spring Fling is the biggest ever, and we are really looking forward to welcoming visitors from all over Scotland and the rest of the UK for a great Bank Holiday weekend of visual art, craft and fun."