Joint bid for Reston and East Linton station opening funds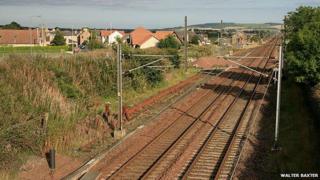 Two Scottish councils are making a joint bid for funding to help open stations on the East Coast line.
Scottish Borders and East Lothian Councils, along with the South East Scotland Transport Network (SEStran), are applying to the Scottish government's Rail Station Fund.
They want to open stations at Reston and East Linton.
Supporters say the move would benefit the local economy as well as cutting congestion for commuters.
The move comes after five companies bidding to win the ScotRail franchise from 2015 were told to consider the new stations as part of their submissions.
According to councillor Russell Imrie, who chairs SEStran, they would open rail travel to "thousands" of commuters and offer "major benefits for the local economies and tourism".
The Scottish government will make a decision on the bid later this year.