Police HQ removed from Dumfries learning hub site list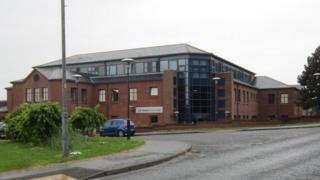 The police headquarters in Dumfries has been removed from a list of potential sites for a "learning hub" in the town.
The Cornwall Mount premises appeared on a report as one of five possible locations for the development.
Dumfries and Galloway Council admitted Police Scotland had not been consulted and it should not have been listed.
A statement said the property would be removed from the education committee report and the local authority accepted "full responsibility" for the error.
It leaves the Crichton Campus, Maryfield playing fields, a former bowling green at the King George V complex and the old George Street School of Art as contenders for the project.
'Wider plans'
It is part of wider plans to overhaul school provision in the town.
The Learning Town project would see two new secondary schools built and two others upgraded.
The redevelopment strategy would be underpinned by a specialist "learning hub" providing access to higher academic and vocational studies.
The education department has tabled a revised shortlist of the four potential locations to house the new facility.
A report detailing the options will be presented to members of the education committee who will be asked to agree a preferred site.