Dumfries man Ian Thomson convicted of raping six women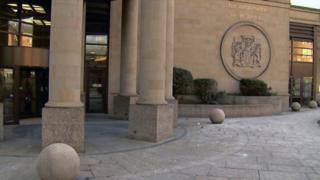 A Dumfries man has been convicted of raping six ex-girlfriends over a nine-year period at the end of a four-week trial at the High Court in Glasgow.
Three of his victims said Ian Thomson, 34, laughed after the attacks.
He was cleared of raping one of his victims in front of her children. The verdict in that case was not proven.
The rape of a seventh woman in Scotstoun was also found not proven but he was convicted of sending her threatening text messages.
Judge John Beckett QC deferred sentence on Thomson until next month for a risk assessment to be carried out.
He also ordered background reports.
He told the farm worker and fisherman: "You have been found guilty of many serious offences including the rape of a number of women."
Judge Beckett said the evidence in the case was "harrowing" and excused the jurors from ever having to serving on a jury again.
The court heard that Thomson, who committed the offences in Dumfries between 2000 and 2009, was also violent and controlling towards the women.
In a fit of temper he ripped up one of his victim's family photographs and with another he tore up her Christmas decorations.
One of his victims described him as "nicey nicey one minute and the next the most evil and twisted person I have ever known".
She added: "He was controlling, very controlling. It had to be his way or no way."
'Ask permission'
The woman, who cannot be named for legal reasons, told advocate depute Jane Farquharson, prosecuting: "I told him when a woman says no it means no, but Thomson said: 'I'll decide.'"
She was diagnosed with post traumatic stress disorder which was directly linked to her relationship with Thomson.
Thomson's first rape victim was just 15 when she was raped by him.
She told the court that she was also physically abused by Thomson and discouraged from contacting friends and relatives.
The woman said: "I stopped speaking to people and I stopped going out.
"If I wanted to do anything I had to ask his permission."
Referring to Thomson raping her, she said she had told him to stop but he had ignored her.
"I told him I didn't want to," she said.
"He just laughed in my face and said I should have done what he wanted."
Another victim who was 17 when Thomson raped her said he always wanted to know where she was and what she was doing.
He even told her what she was to wear to a wedding after he described her choice as unsuitable.
'Piece of meat'
She told the court: "After he raped me he just laughed and acted like nothing had happened."
One woman told how Thomson raped her in a caravan when she was aged 14 or 15.
She said: "I told him I didn't want to lose my virginity in a caravan and he just laughed."
Another of Thomson's victims said she had told him she did not want to have sex but he had carried on, saying he liked a "challenge".
She added: "He made me feel like a piece of meat.
"He never listened to anything I said. When I said no he should have just left me alone."
All the rapes took place in Dumfriesshire.
Thomson denied all the rape allegations and claimed the women were conspiring against him and "telling a pack of lies."
He was brought to justice by the efforts of Police Scotland's Domestic Abuse Task Force.
They began investigating Thomson and spoke to his known former partners.
Solicitor advocate Murray Macara, defending, will give his plea in mitigation next month.