Fox put down after illegal trapping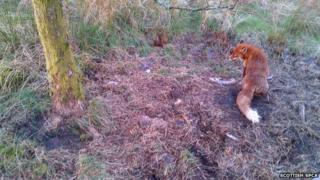 A fox has had to be put down after suffering a "huge amount of pain" after getting caught in an illegal snare in Dumfries and Galloway.
The Scottish SPCA was called out after a member of the public spotted the animal near the village of Parton.
The snare had caught the back end of the fox and tightened around its skin.
The animal welfare charity said that due to the extent of its injuries its officers had had no option but to put the animal to sleep.
Pet warning
Ch Supt Mike Flynn said: "This fox would have been caused a huge amount of pain and suffering.
"The snare was imbedded in the fox's back end and it was unable to move, which would have been extremely distressing.
"We are asking members of the public to contact us if they see a snare and have any suspicions as to whether it is legally set."
He said dog and cat owners in the area should be "extra vigilant" when allowing their pets outdoors as there could still be other live snares in the area.
"While snaring continues, suffering will continue and that is why we are in favour of an outright ban on the use of snares in Scotland," said Ch Supt Flynn.
Anyone with information about the incident, discovered on 8 May, has been asked to contact the Scottish SPCA.