Royal Bank of Scotland delivers Borders coverage pledge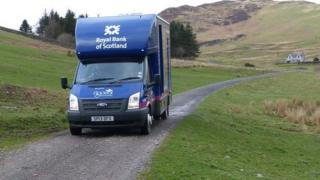 The Royal Bank of Scotland says a new mobile service will still ensure "good coverage" after it shuts three branches in the Borders next month.
Sites at Chirnside, Greenlaw and Newtown St Boswells will close in June.
The move has been criticised by some politicians as "damaging" to the areas they serve.
However, RBS local chief executive officer Hazel Bryden said that the new service could actually take the bank "further into the community".
"We have reacted to the reduction in footfall in these branches," she said.
"There has been round about a 30% reduction.
"With the introduction of the new mobile branch we will continue to visit these locations twice a week so we will still give them good coverage."
She said that in addition to visiting the towns directly affected, the new mobile branch would go out to surrounding towns and villages.
"We are actually taking the bank and the branch further into the community," said Ms Bryden.
"I think people have been surprised by the design of the mobile branch - it is very modern.
"I think most people thought they would only be able to do cash transactions but they now realise it is a fully functional branch."
She said she understood the opposition to the closures.
"I grew up with these local branches - I used them with my own parents," she said.
"There was some sadness and there is always disappointment when you close branches but what we do feel excited about is the fact that we are going to go to other places.
"What we are very, very proud of is that we have got the first new mobile branch of this kind that fully functions as a branch rather than a mobile van that deals with cash.
"So in the Borders we have the first of its kind in the whole of the UK which is really exciting for us to be able to get that out to our customers."