Dumfries and Galloway hospital consultant vacancy impact 'acute'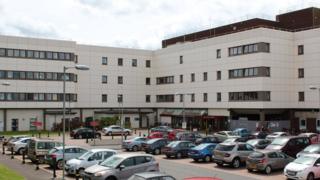 The number of vacant hospital consultant posts in Dumfries and Galloway is at its highest level in more than a decade.
More than 20 unfilled positions mean locum cover costs reached £7.5m in the past year - £1.2m over budget.
NHS Dumfries and Galloway chief executive Jeff Ace said it was a problem being felt "acutely".
He said attracting new permanent medical staff to the region was a priority.
"We have just over 120 consultant posts in NHS Dumfries and Galloway and I think at the last count we had 22 vacancies," he said.
"In my 14 or 15 years at the board that is the highest level that we have experienced.
"It is not entirely a local problem, you will see similar difficulties in filling key posts across Scotland but it is one that we are feeling particularly acutely at the moment."
'Key impact'
He said they needed to make "in-roads" into the problem quickly in order to get a "critical mass of well-established, permanent consultants".
"I think the service element is the one that troubles me more than the financial element," he said.
"Clearly this is a significant amount of money that we are spending and we would spend less if we had fully established our consultant numbers.
"But I think the key impact is on service development - we are very much looking for our clinical teams to work with us around redesign of services and around increasing the safety of our patient services."
He said that could be "much more productive as a dialogue" when it was with permanent staff.