Annan to Bowness-on-Solway rowing raid recreated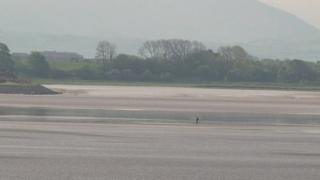 A bid is being made to recreate a reputed raid when residents of a Scots town rowed across the Solway Firth to steal an English village's church bell.
It is being staged as part of the Annan Harbour Festival celebrations.
In 1626 a group from the town is said to have rowed to Bowness-on-Solway in England and carried out the theft.
However, "a small boat, a big bell and a lot of alcohol" meant the stolen item is thought to have been lost overboard and never found.
Organisers of the modern day "raid" said that the residents of the English village considered the theft the "maximum insult".
So they then came back over the Solway and stole the church bells in Dornock and Middlebie in southern Scotland.
They are still installed in the church in the English village and every year the minister from Middlebie requests their return which is "politely declined".
The modern-day raid will be run under Scottish Coastal Rowing Association rules but with a "slight variation" to allow costumes to be worn.
Crews are also being encouraged to carry "magnificent flags or banners".
The event is being staged as part of the Annan Harbour Festival.
It hopes to raise awareness of the need to dredge the town's harbour and earn funds towards that work.