Co-op furniture store closure a 'big blow' for Selkirk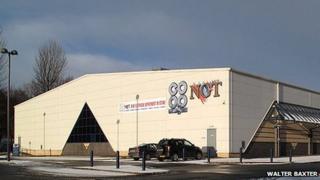 A Selkirk councillor has said the closure of a furniture and electrical store is a "big blow" for the town.
The Co-op NGT shop in Dunsdalehaugh shuts in July with the loss of 12 jobs.
It is the second major retailer to desert the site after Baxters closed its doors in February, leading to 23 full and part-time posts being lost.
Councillor Gordon Edgar said he hoped steps could be taken to make it easier to attract new businesses to the town to replace the ones which had left.
The Co-operative Group confirmed the closure of the store late last week saying it had taken the decision with "the greatest reluctance" and after "strenuous efforts to find a way to continue to operate the store on a sustainable basis".
It said every effort would be made to redeploy the staff involved or find them alternative employment.
'Lost attraction'
The company stressed the decision did not affect its food store in the town.
However, Mr Edgar said the closure of the site could affect the number of people visiting the area.
"I think it will be a big blow for Selkirk - we have already lost one attraction that brings people into the town," he said.
"Selkirk benefits from these kinds of premises.
"I think we have to look at the restrictions that are on the site to see if there is a way we can remove some of the restrictions."
He said that might open up the market to other businesses which had not previously been able to consider moving to the town.