Dumfries Infirmary intensive care unit cleaning issues tackled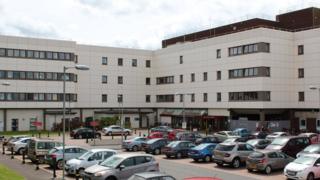 A health board says "significant progress" has been made in improving an intensive care unit (ICU) criticised for poor cleaning practices.
The Healthcare Environment Inspectorate (HEI) called for action following a visit to Dumfries Infirmary in January.
It identified a "significant number of high priority areas" which needed to be addressed.
NHS Dumfries and Galloway's chief operating officer Julie White said a wide range of work had been undertaken.
Inspectors found cleaning standards were poor in the unit and patient equipment was dirty.
'Remedial work'
Ms White said the health board had moved immediately to tackle the concerns raised.
She said patients and staff had been moved out of the ICU in order for works to be carried out.
"During that time we undertook significant remedial work to the environment," she said.
"That has now been completed and addresses a number of recommendations from the HEI inspection.
"So we have made significant progress around that and we have also appointed a senior charge nurse who is leading the various changes that are required in the department."