Borders to Edinburgh railway: 'Crucial' Galashiels bridge works start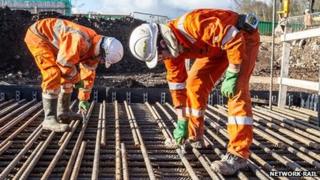 Road closures are being put in place in Galashiels as "crucial" bridge works get under way for the Borders to Edinburgh railway.
Wheatlands Road will be shut until Monday so a large crane can lift the structure into place.
Then Currie Road will be closed for a period of five weeks due to the more "complex construction" needed to build a bridge in the area.
Network Rail apologised for any inconvenience during the works.
The line from Tweedbank in the Borders to Edinburgh is scheduled to reopen next year.
It has required a large number of major construction works along the length of its route.
The latest will see Wheatlands Road in Galashiels shut until 23:59 on Monday while a bridge is put in place.
The project team said it appreciated the inconvenience caused to local businesses and residents and that it was working hard to minimise the disruption.
Hugh Wark, project director with Network Rail, said: "The bridge at Wheatlands Road is a crucial part of the Borders Railway, allowing trains to travel into Galashiels and then on to Tweedbank.
"While we have constructed the bulk of this new bridge without impacting traffic movements, the final lift will require an exclusion zone.
"We apologise for the inconvenience while we crane the bridge into place."
Those works will be followed by the closure of Currie Road to vehicles from 12 May to 14 June.
Peak construction
Pedestrians will be able to use a new temporary footpath which will be constructed around the working area.
Stuart Mackay, communications manager for main contractor BAM, said: "The new bridge on Currie Road is a complex engineering task because of the angle of the bridge over the road, a bridge span of 40m, and the need to weld together multiple sections.
"Vehicles will be able to use Glenfield Crescent and Melrose Road as a diversion and a temporary footpath will be available for pedestrians."
During this period of peak construction in Galashiels, Network Rail and BAM said they were "working closely" with Scottish Borders Council to minimise disruption for residents and businesses.
The council has created a new page on its website to inform local residents about road works in the town.