Dumfries and Galloway speed cameras 'cut serious crashes by 81%'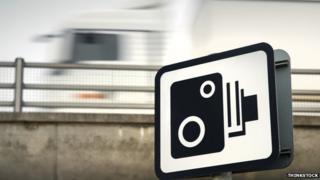 New figures show the level of serious crashes in Dumfries and Galloway has dropped sharply since its safety camera partnership was formed in 2003.
The latest three-year average number of such incidents is 81% lower than before mobile cameras were introduced.
The rate of more minor accidents has also reduced by 69% at 20 sites across the region.
The figures are contained in a response to Transport Scotland's consultation on safety cameras around the country.
A proposed reply from Dumfries and Galloway Council admitted that focus on education and encouragement may have been lost as budgets have tightened.
It said that could have led to an increased emphasis on enforcement action alone.
'Often missed'
However, it recommended that the remit and arrangements of safety camera partnerships should remain broadly as they were at present.
It also raised concerns about any moves towards a national communications team for the service.
The report said past campaigns had "often missed southern Scotland" and that situation might worsen under a Scotland-wide unit.
Two safety camera vans operate in Dumfries and Galloway at 20 different sites - five on local roads and the other 15 on trunk roads and the A74(M) motorway.
Figures show the location with the worst record prior to the introduction of cameras was on the A701 at St Ann's but its levels had also dropped significantly.