Four new Dumfries and Galloway fire appliances arrive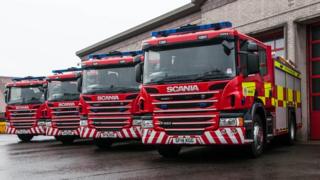 Four new fire appliances have been delivered to firefighters in Dumfries and Galloway.
The Scottish Fire and Rescue Service (SFRS) said the vehicles were part of a "major investment" in its fleet.
The fire engines will be deployed initially at Dumfries, Annan, Lockerbie and Stranraer stations.
The Scania P28s are described as state-of-the-art machines and cost almost £250,000 each.
SFRS area manager Alan Fairbairn said: "The deployment of these four vehicles to stations throughout this area means a quarter of all the new acquisitions to the Scottish fleet have been initially deployed in Dumfries and Galloway.
"We are absolutely determined to ensure every community has access to specialist resources and this investment in world class fire and rescue equipment is a clear example of that commitment being put into effect here."