Rhona Martin's Olympic gold medal stolen from Dumfries museum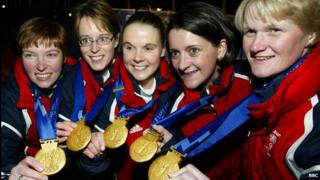 The Olympic gold medal won by Scottish curler Rhona Martin at the Salt Lake City Games in 2002 has been stolen in a raid on Dumfries museum.
The thieves also escaped with another Olympic gold medal, four curling club medals and a historic silver casket.
The haul is estimated to be worth more than £34,000. Police have appealed for information.
The building on Rotchell Road was broken into at about 22:00 on Wednesday.
Officers are keen to trace three people in dark clothing seen in the area around the time of the incident.
The other Olympic medal stolen was won by William Jackson at the inaugural Winter Olympics at Chamonix in 1924.
Martin said she had been "absolutely devastated and gutted" by the theft.
She added: "I would directly appeal to those who have taken this to return it. It is very sentimental to me personally and I have had the pleasure of sharing the medal with so many Scottish and English people since I won it with the Stone of estiny in Salt Lake City in 2002.
"So many youngsters have got to touch and see the medal and this has inspired them to go on to take up curling or aspire to do well in sport or life in some way.
"The medal is not only mine, it is all of Scotland's and was on display in the Dumfries museum so that everyone can share it.
"After such a fantastic year for the sport and with the Commonwealth Games rapidly approaching, this is an ice cold bitter blow for me, my country and the traditional 500 year old Scottish sport I have loved my whole life. What is even worse is the theft of the historic 1924 curling medal and other items also."
Ch Insp Steven Lowther of Police Scotland said: "We are at a very early stage of the investigation and the items stolen are still to be confirmed.
"However, it includes four curling club medals and two Olympic medals.
"We are keen to trace the three individuals seen running away from the Museum around this time. It is believed they were last seen running on Rotchell Road in the direction towards Park Farm."