'Don't drink and dive' plea at Eyemouth and St Abbs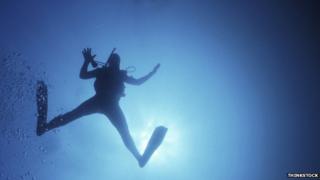 Police Scotland has urged people not to drink before they go diving off the coast of the Scottish Borders.
In particular, they want to highlight concerns over those who consume alcohol the night before a dive.
Sites near Eyemouth and St Abbs in south east Scotland are very popular for the sport.
Police are targeting a wide range of local businesses in order to try to get their "don't drink and dive" message to as many people as possible.
PC Richard Toward, who developed the initiative, said: "Many of those who come to the area are highly experienced and well-equipped for what can be a dangerous sport.
"One issue, however, is that some divers drink the night before they dive, and this can contribute to increasing the risks to divers."
Along with partners which include the RNLI and Marine and Coastguard Agency, Police Scotland is promoting a safer diving campaign and is advising visiting divers to drink sensibly when planning to dive the following day.
The campaign will run over the summer period to raise awareness of the issue of drinking and scuba diving, and the dangers that this can cause.
Work has already been carried out by the Dedicated Diving Research Centre (DDRC Healthcare) based in Plymouth, which has produced information material relating to drinking and diving, and this is being distributed by Police Scotland.
The campaign will target local dive boats, dive centres, accommodation providers bed and breakfast, hotels and caravan parks, pubs and restaurants with a view to them displaying and giving out leaflets to divers who may use their facilities.
PC Toward said: "The waters around Eyemouth attract divers from all down the east coast of Scotland and the north-east of England and our message to them is to drink responsibly and dive safely.
"The campaign will continue with engagement with divers at local shore diving sites to groups of divers who may visit the area and our overall aim is to reduce the number of times the emergency services and NHS have to respond to divers needing assistance.
"Community officers from the east community policing area will be visiting tourist accommodation, harbours and dive centres to raise awareness to visiting divers."