'Real time' bus system launched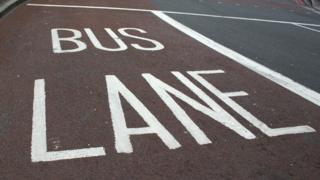 Technology giving real time information on bus services has been fitted to vehicles operating across southern and eastern Scotland.
The real time passenger information (RTPI) system can be accessed via the internet or a smartphone app.
The South East of Scotland Transport Partnership (SEStran) said it would "transform the quality of bus travel".
Equipment has been fitted to more than 300 vehicles in East Lothian, Fife, West Lothian and the Scottish Borders.
The BustrackerSEStran system is also on buses between the Borders and Dumfries and Galloway.
Initially, it has been installed on vehicles operating on selected First Scotland East and Stagecoach services.
SEStran said it would add more services "as appropriate" as funding becames available.
Russell Imrie, who chairs SEStran, said: "SEStran believes that extending real-time passenger information throughout south-east Scotland is a major step towards achieving our goal of creating a sustainable transportation system for the region.
"Working in co-operation with our local authority partners and bus companies First and Stagecoach, SEStran have committed almost £5m to developing bustrackerSEStran."
The project has been backed by a number of local authorities, the Scottish government, the European Regional Development Fund and neighbouring transport partnership SWEStrans.
Transport Minister Keith Brown said he was pleased with the level of council support.
"This is the first stage towards regional delivery of real time information demonstrating that this is a good example of forward thinking and strong partnership working," he said.
"Like the Intelligent Transport Systems we are installing on our motorways, it's another instance of how we are investing in smart technologies to make the best use of our transport networks and give travellers fuller and more up to date information."
"From the passengers perspective the provision of this technology will help inform passengers and allow journey choices to be made, and hopefully encourage more people to take the bus rather than the car."
The bustrackerSEStran app will initally provide information on First and Stagecoach vehicles. Lothian Buses services included on the Edinburgh Bustracker system must be accessed on a separate app available for that system