Dumfries curling competition gives town a global profile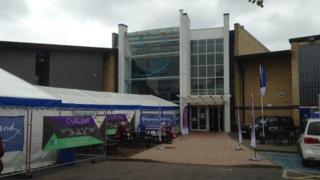 How many times would the Netherlands, Switzerland, Norway, the United States, Slovakia, Czech Republic, New Zealand, China, the Republic of Ireland and France convene in Dumfries?
The Queen of the South is many things, but she is not generally renowned for her cosmopolitan air.
And yet, for a week at least, all that has changed thanks to a sheet of ice and some sets of smooth-bottomed stones.
It's curling, of course, the sport you may remember gripped the nation's imagination as Team GB grabbed medals at the Winter Olympics a couple of months ago.
Both teams were composed entirely of Scots, many of them from Dumfries and Galloway, so it seems only right the world mixed doubles and senior events should be staged in the "home" of the sport.
The buzz about the Dumfries Ice Bowl is evident all around you.
A range of different national flags, the lilt of various accents and languages and, inevitably, the sound of Swiss cowbells all make for a pleasingly disconcerting occasion for a Doonhamer such as myself.
By rights, perhaps, the sport should be in my blood but it has always - if you'll forgive the pun - left me a little cold.
So a visit to watch the teams in action did not have me brimming with enthusiasm.
However, I confess, seeing it in the flesh taught me a thing or two.
Teamwork involved
Television really does not do justice to the distance covered and precision required.
The first thing that strikes you is just how far a stone has to travel - on ice, remember - to a pretty small target.
And then there's the teamwork involved in ensuring it ends in the perfect position.
Intense debate - little of it in a language I could understand - preceded most shots.
Furrowed brows were the order of the day as five different ongoing games looked for the best shot to play.
It usually produced either a deft draw or a smashing drive to send stones cracking across the ice.
And then there's the sweeping.
The frantic brushing - often accompanied by a distressed cry to desist or sweep harder - is something to behold.
Different experience
On television, I found, the action passed too slowly and I'd often switch off and turn back on for the closing ends.
But watching it in person is a different experience.
You can crowd-watch a little, dip in and out of games at their key moments and generally soak up the atmosphere.
Is it enough, though, to continue the profile surge the sport enjoyed during the Winter Olympics?
That sort of level of publicity is probably impossible to sustain but events like these championships in Dumfries have a part to play in keeping curling in the public eye.
Crowds of children from local schools attended many of the sessions along with fans and followers from around the globe.
Many more turned out to watch the Olympic medal winners on their "homecoming" visit to Lockerbie on Saturday.
If even a handful of those youngsters can be enthused, it ensures the sport's roots - never really in doubt in Scotland - can spread a little wider.
Tourism boost
And as for Dumfries, well it's starting to get a taste for these international events.
Be it board-crashing ice-hockey, flat out cycling in the Tour of Britain or the more subtle tactics of curling, it has hosted many countries in recent times.
It brings a welcome tourism boost as well as raising the profile of south west Scotland a couple of notches.
Each team and their entourage enriches the area a little both financially and culturally.
And that allows Dumfries to feel - at least for a little while - that it is at the centre of something pretty special.