Bearded dragon found in Earlston garage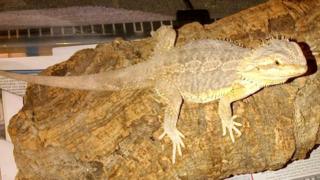 A foot-long bearded dragon has been discovered in the garage of a house in a Scottish Borders village.
The reptile was found on Wednesday at Kilnknowe East End in Earlston.
It has been taken into the care of the Scottish SPCA's animal rescue and rehoming centre in Balerno where it has been nicknamed Malfoy.
The charity is trying to trace the owner and believes the bearded dragon might have escaped from a home, although it may have been abandoned.
'Good condition'
Animal Rescue Officer Steph Grant said: "Bearded dragons require heat so it's possible Malfoy was seeking shelter in the garage.
"We're glad he was found so we could help him.
"Malfoy is in good condition so I think there's a chance he may have escaped from home, although we also have to consider that he could have been abandoned."
The charity said it was keen to hear from anyone who recognised the bearded dragon.
However, it added that if nobody came forward it would find it a "suitable new home".