Borders General Hospital norovirus outbreak concerns raised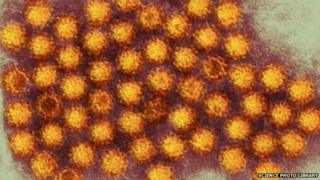 An MSP has raised concerns in Holyrood about a norovirus outbreak at Borders General Hospital first reported more than three months ago.
The SNP's Christine Grahame took the issue to First Minister Alex Salmond.
He promised the involvement of Health Secretary Alex Neil in talks to try to tackle the long-standing problem.
NHS Borders medical director Dr Sheena MacDonald said they were doing all they could but cases outside the hospital made new infections more likely.
Ms Grahame told the Scottish Parliament she had first voiced concern about the norovirus outbreak on 13 January.
"I regret to inform the first minister that three months down the line that outbreak remains," she said.
"Does he share my concerns about what appears to be a great delay in resolving this?"
Mr Salmond said he did, but stressed that, in general, the situation with norovirus had improved across Scotland compared with last year.
"Nonetheless, it is obviously of key concern that this particular instance has not shown that general improvement," he said.
He said Mr Neil would meet with Ms Grahame to see what could be done.
NHS Borders said it would be happy to have talks with the health secretary but problems outside the hospital's control had played a part.
"We have had quite a high level circulating in our community - in local schools and care homes as well as individuals in their own homes," said Dr MacDonald.
"So we may get on top of it and another case may bring it in."
She added that the design of the BGH was also a contributory factor in ward and bay closures during the outbreak.
"Within the hospital, as well, it is highly infectious and our hospital is designed with multiple patient areas," she explained.
"So if one person in a bay suddenly becomes ill with diarrhoea or vomiting it is airborne and it does land on surfaces and it does, from that minute, mean that we have to bring in controls."