Annandale whisky distillery targets late summer opening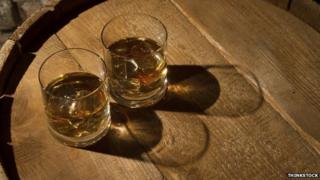 A south of Scotland whisky distillery hopes to open in late summer after being closed for more than 90 years.
Recruitment is under way for staff for the multi-million pound Annandale Distillery project.
It is hoped the site could draw as many as 50,000 visitors per year and provide a boost for tourism.
Prof David Thomson, the man behind the scheme, said work was almost complete on the site and he hoped it could be launched later this year.
"I can see the contractors being off site by the middle of July," he said.
"We can't really get a licence from HMRC until they have gone.
"So, assuming we can work these things in parallel, let's say towards the end of July - fingers crossed."
He said they would have preferred to be opening now to catch the whole tourist season.
"We've appointed a visitor experience manager who starts on 12 May," he said.
"So hopefully she will be able to get things ready and maybe if we give her a little more time we might be better sorted out by then."