Glasgow 2014: Coldstream prepares for Queen's Baton role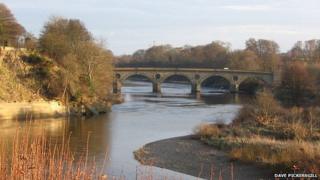 A special ceremony is being planned in Coldstream when it becomes the first town in Scotland to welcome the Queen's Baton Relay on 14 June.
The baton will have travelled through 69 countries by the time it reaches the Borders ahead of this summer's Commonwealth Games in Glasgow.
Organisers said the arrival of the baton in Scotland would be a signal the Games were "just around the corner".
Full details of the ceremony will be unveiled at a later date.
Commonwealth Games Scotland Chairman Michael Cavanagh said: "The baton's arrival in Coldstream will be a particularly special moment as it is handed over to Scotland as Games hosts.
"It is a fantastic opportunity for the community to get behind local athletes, and show their support for Team Scotland, as the relay makes its way through the length and breadth of the nation."
Scottish Borders Councillor Vicky Davidson urged the public to turn out in force for the day.
'Historic moment'
"The eyes of the world will be on Coldstream as the baton crosses the historic bridge over the Tweed and arrives back into Scotland on 14 June," she said.
"I would encourage everyone who can to come along, support the baton bearers and join in the celebrations."
David Grevemberg, Chief Executive of Glasgow 2014, said he was pleased the baton's journey around Scotland would start in a "stunning location in the Scottish Borders".
"We look forward to joining the local community in creating a historic first moment for the baton's return," he said.
"The Queen's Baton Relay is a once-in-a-lifetime opportunity for people to get behind Team Scotland, and enjoy the big countdown to Scotland's biggest ever sporting celebration, the Glasgow 2014 Commonwealth Games.
"We hope everyone will join us for a great morning in Coldstream, as we set the scene for Scotland's 40-day relay."