Extra work could delay Dumfries Burns statue square upgrade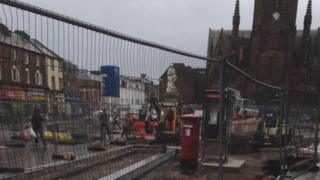 A council is to assess whether "unforeseen additional work" on a £1m landmark square upgrade in Dumfries will see it miss its completion date.
The project around the town's Burns Statue is hoped to be concluded in time for the annual Guid Nychburris celebrations in mid-June.
Extra work has to be undertaken to tackle drainage issues in the area.
Dumfries and Galloway Council said it was working closely with contractors to see if completion targets would be met.
The major improvement scheme in the heart of Dumfries town centre began earlier this year after previous delays.
It has seen a large area of paving and road dug up and a number of sections fenced off while the operation is continuing.
'High standard'
It was intended it could be completed in time for Guid Nychburris on 21 June.
However, a council spokesman confirmed extra works had to be carried out that had not been anticipated.
"The Burns Statue improvements are ongoing - however there has been a need to undertake unforeseen additional work to address drainage issues and extra care has been needed to protect gas pipes and services," he said.
"These have been necessary to ensure the services are upgraded and the project is delivered to a high standard.
"The council is continuing to work closely with the contractor and will be assessing whether the additional works have impacted on the completion date."