Hawick man Craig Takacs hits lottery scratchcard jackpot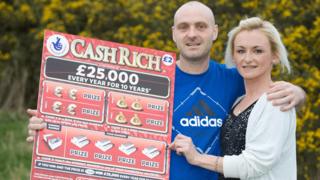 A Hawick tree surgeon has won £25,000-a-year for the next 10 years with his first National Lottery scratchcard.
Craig Takacs, 31, bought the card at his local Co-op store.
He said that initially he did not believe he had won the payout and checked "over 100 times" to make sure.
Mr Takacs - who lives with his partner Rhonda Stewart and their four children - said he would use the money to buy his house and get his children a "little treat every so often".
He said: "I haven't bought a scratchcard before but for some reason I decided to get one with the change I had left from my shopping.
"I put it in my pocket and then forgot about it until I was getting ready for bed.
"When I scratched it I really didn't believe I had won - I must have looked at it over 100 times to make sure.
"I told my partner Rhonda straight away and she was so excited."
However, because it was late at night, they had to wait until the next day to claim their prize.
"We couldn't phone the claim line until it opened at 9am the following morning so we set our alarm for first thing," he said.
"I didn't get to sleep until 4am with all the excitement.
"I'm glad I noticed it in my pocket as it might have ended up in the washing machine!".
Having enjoyed such success at his first attempt, he said he had no intention of stopping.
"I never used to think I would have a chance of winning the lottery but I'll be buying tickets and scratchcards from now on," he said.
"I'm not sure what made me decide to buy one when I did - I like to think it was my late gran looking down and giving me a nudge to do it."