Cameras capture first Caerlaverock osprey egg of season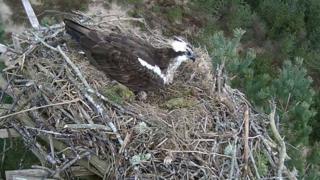 CCTV cameras have captured the first osprey egg of the season to be laid at a reserve in the south west of Scotland.
Viewers were able to watch it live on a big screen at the Wildfowl and Wetlands Trust reserve at Caerlaverock at about 15:40.
Centre manager Brian Morrell said the bird was "remarkably calm" while laying the egg.
He added that a further two eggs were expected in the next week or so.
Viewers can watch the nest live at the centre or via the internet daily between 10:00 and 17:00.