Dumfries and Galloway vulnerable children safety fears raised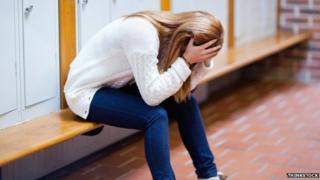 Inspectors have warned they are "not confident" that vulnerable children and young people in Dumfries and Galloway are being kept safe.
A report has called for urgent action to ensure that they are protected and their needs met.
The inspection, led by the Care Inspectorate, was carried out in January and February this year.
In nine categories, it found services to be "unsatisfactory" in one area and "weak" in three others.
The remaining five indicators were considered to be "adequate".
Inspectors looked at the work of the region's Community Planning Partnership (CPP), comprising the council, police, health board and others.
Their report noted: "Based on the findings of this joint inspection, inspectors are not confident that all children and young people are receiving timely and effective help to keep them safe.
"Community Planning Partners should, as a matter of urgency, work together to ensure that children and young people are protected and their needs met.
"Partners must ensure that they deliver on important aspects of services for children where the pace of change has been unacceptably slow."
The inspection was carried out by teams of expert inspectors from the Care Inspectorate, Education Scotland, Healthcare Improvement Scotland and HM Inspectorate of Constabulary for Scotland.
Annette Bruton, the Care Inspectorate's chief executive said protecting young people and ensuring services were of the "very highest standard" was a "crucial part" of their work.
'Necessary improvements'
"This report sets out clear areas where improvement is required urgently to ensure that all children and young people in Dumfries and Galloway are protected and to ensure that they can access safe, compassionate, good quality services which meet their needs and respect their rights," she said.
"We are working closely with community planning partners to make the necessary improvements."
The Care Inspectorate will now ask the Dumfries and Galloway CPP to publish a joint action plan detailing how it intends to make improvements identified as a result of the inspection.
Inspectors will revisit the area in the next six months to report on progress.
Dumfries and Galloway Council leader Ronnie Nicholson, who chairs the partnership, said: "The community planning partners fully accept the hard messages in this report and I am pleased immediate action has already been taken.
"A draft plan has been developed which contains a number of actions to improve professional leadership, key processes and our partnership working."
He said everyone was "fully committed" to addressing the issues raised.
Andrew Johnson, who chairs NHS Dumfries and Galloway, gave a similar pledge.
"We have already taken urgent action to reassure ourselves and others and to ensure that we are as confident as we can be about our processes for keeping children safe," he said.
Ch Supt Kate Thomson said Police Scotland accepted the findings of the report.
"In partnership with those in the CPP our priority now must be to work through the action plan that has already been developed, ensuring that the services we provide to our children, young people and families here in Dumfries and Galloway keep children safe," she said.
The full report into services for children and young people is available online.