Troubleshooter Digby Jones takes on Hawick Knitwear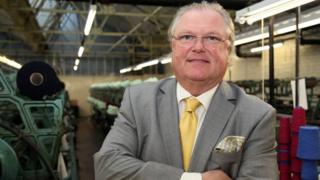 Did business expert Lord Digby Jones bite off more than he could chew when he tried to help out a Hawick textile factory?
They know a thing or two about textiles in the Scottish Borders.
The industry goes back centuries and enjoys a global reputation for its quality and craftsmanship.
However, it also faces huge challenges - particularly from overseas imports - and has seen the number of businesses and the staff they employ decline steeply since its heyday.
That's why Hawick Knitwear - with its 235-strong workforce - turned to business expert and troubleshooter Lord Digby Jones for advice.
Brand manager Arthur Rennie said: "This business is consumer driven.
"When people don't want to buy a product that has been properly made with provenance in the UK - and in Scotland in particular - then we are out of business."
The Hawick firm has gone through some significant changes in recent years.
In 2008 and 2009 it announced two rounds of job cuts within a matter of months.
Then, the following year, it was the subject of a management takeover.
'Access all areas'
After that, it reported increased turnover and announced plans to take on trainees to help cope with demand for its sweaters.
And, in 2012, Bolton-based Ruia Group purchased a 50% stake in the business.
It remains an ambitious operation, which is why it allowed Lord Jones "access all areas" over several months to help it safeguard its long-term future.
Even if the former CBI boss admitted it was not exactly his area of expertise.
"I am to knowledge of textiles and woolly jumpers what Attila the Hun was to architecture," he said.
"I am not exactly a world fashion guru - if you look at my portly frame you will probably understand why.
"But in terms of the manufacturing process and in terms of being at the value-added branded end of the manufacturing chain - on those issues I am on very firm ground."
Mr Rennie admitted there had been a degree of trepidation about allowing him access for the TV series Digby Jones: The New Troubleshooter.
"There is a bit of apprehension," he said. "We are a major employer in the area with 235 people - it's feeding a lot of families.
"I think the worst thing he could say is we are wasting our time and that we should close up shop and source from offshore like so many other brands are doing."
Lord Jones took to the factory floor and then further afield to look at what opportunities there were to strengthen the business.
"Maximising the brand in a globally competitive market place, they need to take a few big decisions, I think," he said.
"Can I see some areas where I think I could give them some advice? Definitely.
"Do I think they are going to take it? I think it will be a bit of a battle to get them to go forward more quickly than they are comfortable with."
He reckoned that standing still was not an option.
"One of the problems, especially with small businesses, is because they are being quite successful in their niche in a small market they think: 'Why do I need to risk all this? Why do I need to push out?'" he said.
"But, of course, if you don't go forward you always, relatively, go backwards."
He tried to convince managing director Benny Hartop and Mr Rennie that they needed to more to promote themselves.
"I think the problem is you are not putting your party frock on and going out to the dance enough," he said.
'Exploit opportunity'
Lord Jones put the company in contact with a range of marketing opportunities in order to address that situation.
"If you go to Hawick, in the border country, famous all over the world for textiles then they start ahead of the game in the export market," he added.
"But they are not exploiting the opportunity as best they could."
He came up with a variety of suggestions to try to help their business grow and allow it to thrive for years to come.
But, in a sector rightly proud of its hundreds of years of tradition, could he persuade the management, shareholders and staff to get on board?
Digby Jones: The New Troubleshooter is on BBC Two at 20:00 on Thursday 17 April.