Study rediscovers pilgrims' paths to Whithorn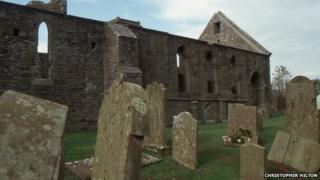 Routes and paths taken by medieval pilgrims to Scotland's "cradle of Christianity" have been rediscovered and mapped out in a new study.
Whithorn, in Dumfries and Galloway, is home to the earliest recorded Christian community in Scotland, and also contains a shrine to St Ninian.
The study used Ordnance Survey data to highlight the locations of several places of historical significance.
It is hoped that the routes will bring more visitors and pilgrims to the area.
Dr Valentina Bold, director of the Solway Centre at the Glasgow University Dumfries Campus, said that the newly rediscovered routes would help fill out the back story of the area and add to its appeal for modern-day pilgrims.
She said: "I think what it adds is something to the story of the pilgrims who visited the area. It also allows the modern would-be pilgrim to map out their own route. There are some wonderful, still active, sites.
"The pilgrim can pick out sites which they feel will be special to them and develop their own journey."
Historical importance
The rediscovered routes came from research undertaken by the University of Glasgow's Solway Centre, while working for the Whithorn Trust.
Dr Bold said: "We are delighted to have been able to work with the Whithorn Trust to promote better knowledge of one of Scotland's most significant early Christian sites and, arguably, in St Ninian, Scotland's most significant saint.
"His miracles show Ninian as very much part of the Whithorn community, anchored in the distinctively rich landscape and culture of Galloway and Scotland."
Robert the Bruce and King James IV are two of the most famous visitors to make a pilgrimage to the area, which remains a popular destination for modern-day pilgrims.
One of the most recent pilgrimages was from Paisley Abbey as it marked its 850th anniversary in 2012.
Dr Bold said the study may also act as a springboard to further research on the appeal of pilgrimage and its enduring appeal.
She said: "We still don't know about the people who come to make their own personal journey.
"There is definitely scope for further research on the meaning of pilgrimage for individuals.
"Pilgrimage is something which is very much being taken up throughout Europe."