First Scotland-England cross-border summit staged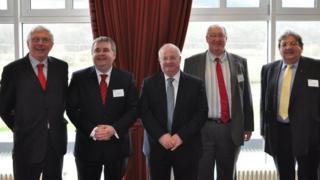 Senior members of councils on the Scotland-England border have met at the first Borderlands Initiative summit.
It involved leaders from Scottish Borders, Dumfries and Galloway, Carlisle City, Cumbria and Northumberland councils.
They met in Peebles to discuss how to take forward "key economic opportunities".
In August 2013, the initiative was announced at the Scottish government's cabinet meeting in Hawick.
It came a month after the publication of the Borderlands report by Northumbria University.
The report recommended enhanced joint working of local authorities on either side of the border to exploit "mutual economic and social links".
The meeting was chaired by Scottish Borders Council (SBC).
Its leader David Parker said: "The initiative brings together a smaller number of councils than previously and therefore I am hopeful that we will be able to deliver something significant from this new initiative.
"We have regularly worked alongside other local authorities and organisations, such as Midlothian and Edinburgh on the Borders Railway and with our partners in the South of Scotland Alliance on the roll-out of superfast broadband.
"It was excellent to sit down and work with other councils as they face similar challenges to ourselves. By working together we may be able to attract significant benefit to our regions."
Dumfries and Galloway Council's depute leader Brian Collins said the rural authorities often felt they were "in a void" when it came to attracting funding and investment.
"By coming together, I hope we have a stronger voice and can promote our respective areas in a more positive way," he said.
The meeting was described by Carlisle City Council leader Colin Glover as an opportunity to meet other councils to discuss "common themes such as enterprise, tourism and transport".
"We are all keen to work more collaboratively and events like this give us all a chance to explore how we can work together to support joint aims," he said.
"The region has a lot to offer and we need to make the most of the resources we have, for the benefit of our residents and local economies."
David Southward, Cumbria County Council's cabinet member responsible for economic development, said the meeting could help to exploit economic opportunities for the whole area.
"The Cumbria Local Enterprise Partnership's growth strategy has already been making the most of Cumbria's potential as the geographic hub for the whole of the UK," he said.
"If you were to spin a map of Northern Ireland, Scotland, Wales and England on your finger, then your finger would be under Cumbria.
"It is vital that we take this opportunity to co-operate with each other on opportunities to make our economies stronger and more dynamic."
Northumberland County Council leader Grant Davey said it was vital to work together in a climate of "economic austerity".
"Pooling our resources, ideas and experiences to improve issues such as transport links and employment will benefit not only Northumberland but the wider region and southern Scotland as well," he said.
"We hope this event has allowed us all to take forward future economic opportunities."