Do towns in the Scottish Borders need drinking by-laws?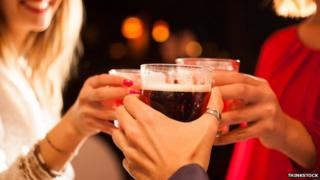 By-laws banning the drinking of alcohol in designated areas of a number of Borders towns have taken a step closer.
The move would affect Coldingham, Eyemouth, Galashiels, Hawick, Jedburgh and Newtown St Boswells.
However, not everyone on Scottish Borders Council was convinced of the need or public support for the plans.
Exemptions to the by-law ruling would cover the common riding summer celebrations and from 18:00 on Hogmanay until 06:00 on New Year's Day.
The local authority started consultation on the move last year and discussed the proposals at area forums throughout the region.
Members of the public were able to submit their views via the council website or complete a questionnaire available at contact centres and libraries.
The authority said at the time that its goal was to make the Borders a "safer place" and that the by-laws could help to reduce any anti-social behaviour linked to drinking alcohol in the areas covered by the ban.
However, when it came to deciding whether or not to take the plans forward there was a clear division of opinion among elected members.
Councillors voted by just 14 to 13 to go ahead with introducing the legislation.
The by-laws will now be drafted with the Scottish government, which also has to approve them.
If introduced, they would see significant fines handed out for drinking in public places.
Not everyone on the local authority has been persuaded by the arguments in favour of the bans.
Local members from Jedburgh and the majority from Galashiels said the action was not wanted in their areas.
Tweeddale councillor Stewart Bell was among those who did not think there was any real appetite for the bans.
"So far we have not seen before us the numerical evidence of the problem or the public support in terms of the wider consultations," he said.
"I have concerns about the consumption of alcohol but we need to make our decisions on the basis of evidence."
East Berwickshire member Michael Cook said, at least as far as Eyemouth and Coldingham were concerned, the desire was there for the by-laws.
Checked attitudes
"I went out and checked with the communities I serve directly what their attitudes were," he said.
"I did it not only once but twice in some occasions and more than that on other occasions - particularly in the case of Eyemouth and Coldingham.
"I am confident that those community councils in those places reflect the local view and I've tried to do that here."
Are you convinced by the case for alcohol by-laws across the Scottish Borders? Does the scale of the problem merit the legislation and does it have public support? Email your thoughts to giancarlo.rinaldi@bbc.co.uk with the subject heading Drinks By-laws.