Edinburgh Woollen Mill boss Philip Day fined for speeding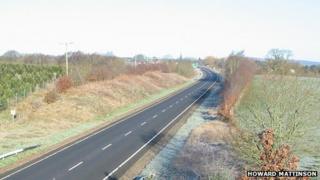 The owner of the Edinburgh Woollen Mill chain Philip Day has been fined for speeding on the A7 near Canonbie.
The businessman, of Edmond Castle, near Carlisle, admitted driving at up to 83mph in February last year.
He told a court he had found out his daughter needed a brain scan and had rushed home from a conference.
Sheriff Kenneth Ross rejected it as a reason for his licence not to be endorsed and gave him six penalty points and a £500 fine.
Day admitted speeding and also overtaking vehicles when it was not safe to do so.
He told Dumfries Sheriff Court he had driven to work in Langholm early in the morning and was in the middle of talks about the takeover of the Peacocks fashion chain when his PA told him about his daughter's hospital appointment.
"It came as a complete shock," he said.
"I wanted to be there with her and I didn't think I put any other road user at risk at any time."
Medical emergency
He said it was only when he got home to his wife and daughter that he found out the appointment had been arranged for some time.
His wife, Deborah, told the court she had not told her husband because of the stress involved in the takeover talks.
However, she said that when their daughter had had a blackout on the day of the appointment she had been concerned about driving her to the hospital alone and had contacted her husband.
Counsel Ian Duguid QC said Day had been under the impression that it was a medical emergency which explained his urgency to get to his daughter.
The sheriff pointed out that he could have phoned his wife to find out full details of the situation before setting off and rejected it as a reason not to endorse his licence.