Melrose Abbey hosts final Hawick missal performance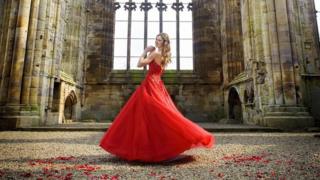 The third in a trilogy of special performances inspired by the discovery of a 12th Century missal fragment is to take place at Melrose Abbey.
The historic document was discovered in Hawick in 2009.
Previous performances have been held at Jedburgh Abbey and Kelso Abbey and featured works by composers Sean Doherty and Michael Nyman.
The last event is on 5 April - ahead of Palm Sunday - and will use music composed by Grayston Ives.
The Hawick Missal Fragment was once part of a missal - a book which contained the texts and chants for a Mass.
Culture Secretary Fiona Hyslop said: "Fragments is a unique and ground breaking project, and Fragments of Red is particularly poignant because it will be performed ahead of Palm Sunday, for which the original piece of medieval music was composed.
"Grayston Ives is renowned in the world of choral music, and the first performance of his unique interpretation of the music from the Hawick missal fragment promises to be breathtaking."
'Historic buildings'
Dr Matthew Cheung Salisbury, director of music for the Fragments project, said it should be a special event.
"We are very excited to be premiering what might be the first music commissioned and written for procession in a medieval Scottish abbey in a long time," he said.
"The experience of Grayston Ives's new piece in one of our great historic buildings will make us think about how our present-day experiences of music, movement, and memory relate to those of the singers of the original fragment's music, and those who built and lived around Melrose Abbey."